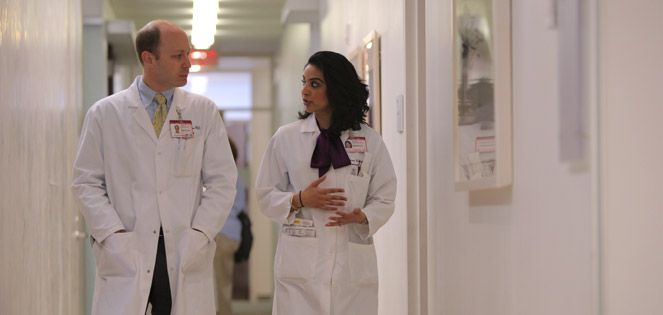 Residents typically participate in dermatology grand rounds three times per month. After a live patient viewing, often with patients who present diagnostic or therapeutic challenges, a discussion with faculty and residents is held in a dedicated conference setting, followed by a formal lecture from a resident, faculty member or invited guest.
Sessions with invited speakers begin with a lecture presentation from 8-9 a.m. in Weill Greenberg Center (WGC) Conference Room A/B unless otherwise noted. Slide case discussions follow from 9 a.m. onward.
Sessions with a resident or internal speaker begin with live case viewings in the WGC ninth-floor clinical area from 8-8:30 a.m. A lecture follows from 8:30-9:20 a.m. in WGC Conference Room A/B unless otherwise specified, followed by case discussions.
July-December 2018 Grand Round Schedule
Weill Cornell Medicine July-December 2018 Dermatology Grand Round Schedule

| Date | Leader(s) | Subject | Location |
| --- | --- | --- | --- |
| July 10 | Henry Lee, M.D., Ph.D. | Case Presentations | Room C, 1300 York Ave. |
| July 17 | Jalong Gaan, M.D., Ph.D. | Quality/Safety | WGC C |
| July 24 | Marie Leger, M.D., Julie Zang, M.D., Ph.D. | Case Presentations | WGC C |
| July 31 | | Bullous Pemphigoid/Pemphigus | 302-D, 413 E. 69th St. |
| September 4 | George Varghese, M.D., William Levis, M.D. | Leprosy | WGC C |
| September 11 | Julie Zang, M.D., Ph.D. | Case Presentations | WGC A/B |
| September 25 | Shari Lipner, M.D., Ph.D., Richard Scher, M.D. | Nail Case Presentations | 204-B/C, 413 E. 69th St. |
| October 2 | Kira Minkis, M.D., Ph.D., Chris Miller, M.D. | Melanoma | WGC B/C |
| October 16 | Joanna Harp, M.D., Vishal Saggar, M.D., Caren Droesch, M.D. | | WGC A/B |
| October 23 | Andrew Avarbock, M.D., Ph.D., Reshmi Kapoor, M.D. | | WGC A/B |
| October 30 | | Billing/Coding | WGC A/B |
| November 6 | Karen Chernoff, M.D., Amit Garg, M.D. | Hidradenitis Suppurativa | WGC A/B |
| November 20 | Jonathan Zippin, M.D., Ph.D. | Contact Dermatitis | WGC A/B |
| December 4 | Anna Bender, M.D. | | WGC A/B |
| December 11 | Kira Minkis, M.D., Ph.D. | | WGC A/B |
| December 18 | Horatio Wildman, M.D., | Departmental Morbidity and Mortality | WGC A/B |