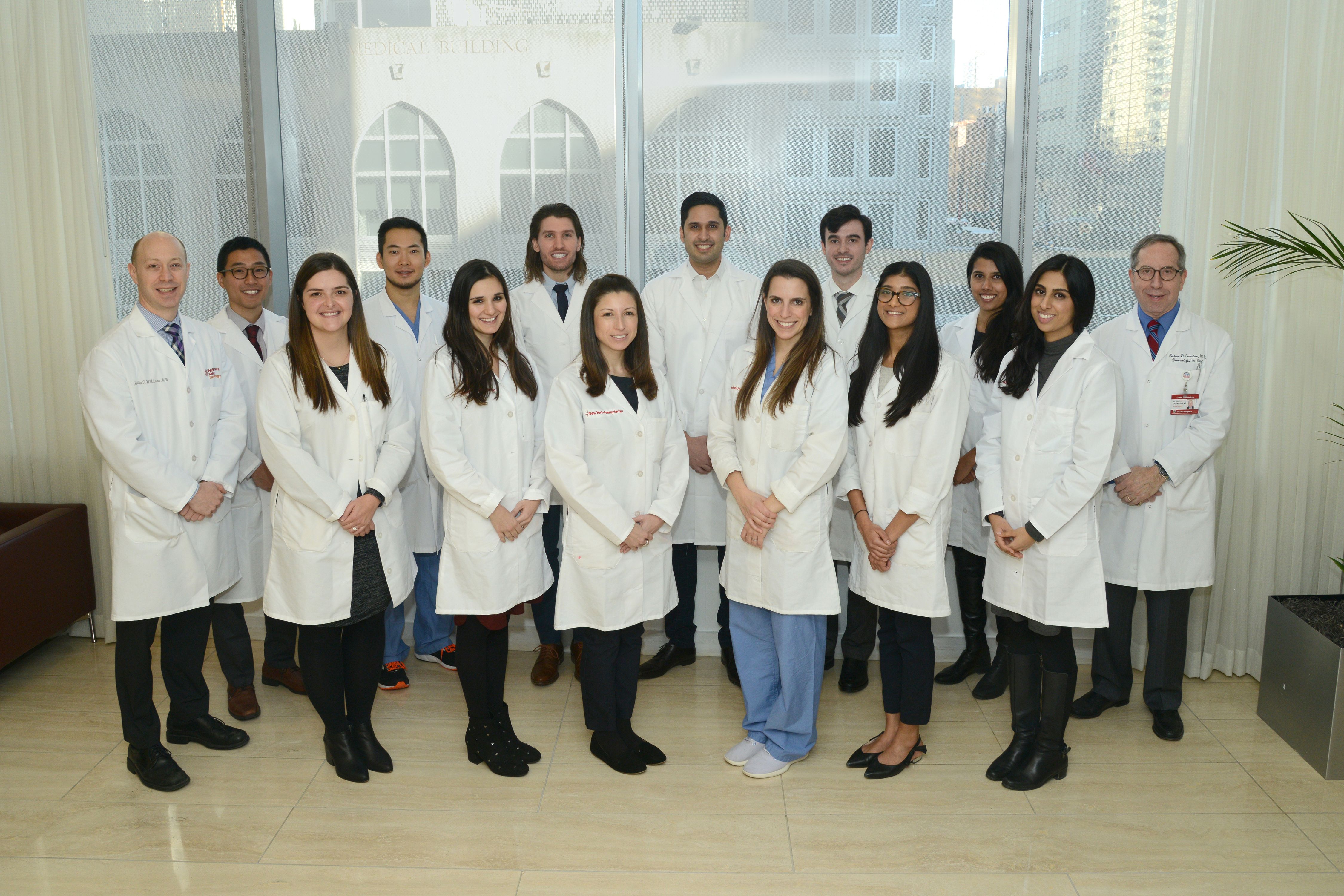 The Weill Cornell Medicine Isarael Englander Department of Dermatology Residency Program provides trainees with exposure to all aspects of dermatology and dermatologic surgery. Residents rotate through several outpatient clinics and provide inpatient consultation services at multiple institutions, including NewYork-Presbyterian Hospital, Lincoln Medical and Mental Health Center, Memorial Sloan Kettering Cancer Center, and Hospital for Special Surgery. Through these rotations, residents gain comprehensive experience diagnosing and managing all aspects of dermatologic conditions among a diverse patient population.
Weill Cornell Medicine (WCM) & NewYork-Presbyterian (NYP)
The NewYork-Presbyterian/Weill Cornell Medical Center is a tertiary medical care center comprised of both inpatient and outpatient services. In 2014, the dermatology outpatient service handled 56,443 outpatient visits. Residents manage an outpatient clinic that includes general and pediatric dermatology as well as dermatologic surgery. All clinics are staffed by both full-time and voluntary faculty. Residents rotate through the faculty practice and foster interest in a specialized area of dermatology through bimonthly continuity clinics.
With a service performing more than 1,000 inpatient consultations every year, NewYork-Presbyterian Hospital empowers residents with hands-on experience managing dermatologic diseases in acutely ill, hospitalized patients. Residents learn under the supervision of a dedicated director of the inpatient consultation service, developing strategies to approach and manage serious skin conditions.
Our dermatologic surgery service provides patients with all aspects of surgical and cosmetic dermatology care. In addition to excisional surgery for a variety of benign and neoplastic processes, over 800 Mohs procedures are performed each year. Cosmetic laser and filler procedure as well as neurotoxin use training is also provided on a regular basis.
Our dermatopathology service provides training for the histopathology and diagnosis of inflammatory, neoplastic and genetic skin disorders. In addition to practical experience at the microscope with attending dermatopathologists, residents attend all dermatopathology conferences, including weekly didactic dermatopathology and ClinicoPathologic Correlation (CPC) sessions.
Lincoln Medical and Mental Health Center
Lincoln Hospital, located in the South Bronx, opened the $2.2-million Children's Health Center in 1999, featuring 49 spacious examination rooms and designed to treat young people from birth through age 19. Lincoln's specialty diabetes clinics include adult, pediatric, pregnancy, and education programs. Lincoln also offers comprehensive asthma and tuberculosis programs, a Level I trauma center as well as critical care, women's and children's services.
A highly valued component of the resident clinical training experience, Lincoln hosts approximately 13,500 outpatient visits per year, providing a mix of both adult and pediatric patients spanning the entire breadth of dermatologic disease. This patient population provides residents with exposure to chronic and neglected stages of disease as well as uncommon infectious diseases. Medical and pediatric dermatology as well as weekly dermatologic surgery clinics are included. Residents also participate in weekly dermatopathology conferences in which cases from each week are reviewed with an attending dermatopathologist, balancing other components of the training program.
Memorial Sloan Kettering Cancer Center (MSKCC)
Situated across the street from the NewYork-Presbyterian/Weill Cornell Medical Center, MSKCC is the world's oldest and largest private institution devoted to cancer patient care, education, and research. At this tertiary care facility, the outpatient dermatology service specializes in prevention, early detection, and treatment of all forms of skin cancer, conducting approximately 10,000 initial and follow-up consultations every year. Residents participate in a wide range of clinics, including melanotic and non-melanotic skin cancer clinics with a focus on the use of dermoscopy, specialty clinics for cutaneous lymphoma, and clinics for the management of skin toxicity associated with cancer treatment and dermatologic surgery, which includes Mohs micrographic surgery. Additionally, residents are involved in the inpatient consultation service, where they gain exposure to dermatologic diseases unique to immunocompromised patients. Residents are also taught by dermatopathology attending physicians and fellows. The very large volume of dermatology outpatients and unique spectrum of diseases at MSKCC make this institution a very special part of our training program that expands the breadth and depth of our educational experience.
Hospital for Special Surgery (HSS)
Immediately adjacent to the NewYork-Presbyterian/Weill Cornell Medical Center, HSS is a specialty hospital focused on the care of rheumatologic and orthopedic disorders, including lupus, scleroderma, and dermatomyositis. Residents rotating through our general dermatology outpatient service spend one half day per week at HSS focusing on dermatologic conditions that arise in patients with vascular collagen diseases.
Visiting Scholarship for Medical Students Underrepresented in Medicine
The New York Presbyterian Weill Cornell Isarael Englander Department of Dermatology is pleased to announce the Minority Visiting Scholarship. This is a stipend provided to medical students underrepresented* in medicine who plan to pursue a residency in dermatology. The funding is intended to cover part of the cost of a month-long away elective at the Weill Cornell Isarael Englander Department of Dermatology. The amount awarded per student is $1500. A maximum of two students are selected per year. 
Please submit a one paragraph statement of interest in our program to our residency program coordinator, Mynaria Everette (mfe3001@med.cornell.edu) in addition to submitting your away rotation application through the AAMC Visiting Students Learning Opportunities (VSLO) program. The deadline for submission is July 31, 2023.
Please also fill out the information below and include this in your email to our department, as listed above.
First name:
Last Name:
Date of birth:
Race/ethnicity:
Medical School:
Desired month for away rotation at Weill Cornell (please list more than one if possible):
If applicable, please describe any financial need for the rotation:
* The American Academy of Dermatology (AAD) recognizes the following racial and ethnic groups as underrepresented in the field of dermatology (as related to the US population): Black/African-American, Hispanic, Latino, American Indian, Alaska Native, Native Hawaiian, and Pacific Islander.